Christian Martinen - Founder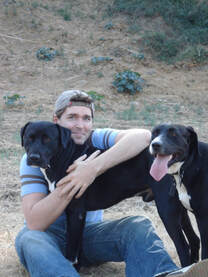 I rescued my first dog Moses (to the right above) in 2005. I adopted him from a "kill shelter" in Los Angeles. He changed my life changed forever. Adopting him was one of the best and most rewarding things I have done.

This experience opened my heart and put me on a path to personally rescue roughly 70 cats and dogs since that time - all of whom are re-homed and living a happy life. This is where my passion to actively improve the lives of pets was born.

Soon after adopting Moses, I came across a dog at the same shelter. He was just skin and bones. He was sick with an extreme case of kennel cough. The shelter had already placed him on the euthanasia list. I just had to rescue him (Aaron on the left above). He and Moses became inseparably. They are the reason I created Max & Lilly.

I soon realized that friends and family were the best choice for me when I needed someone to watch my dogs. I did hire professional pet sitters but I was never as satisfied with the experience.

I realized that it wasn't always reasonable to expect my friends to be available to pet sit when I needed them to. So I had to come up with a better solution. From that, Max & Lilly was invented.

Max & Lilly is a platform connecting like-minded pet owners that share the same love and passion for their furry family members as I do. We are building a community of pet owners that are excited to connect to other pet owners and support one another while earning credits. This is a fun way to meet new people while saving money and ensuring a high quality of pet care.

I hope to see you on the Max & Lilly app. Maybe one day I will meet your furry or not so furry companion.

---